In this EFL Cup Arsenal vs Manchester City Review, I'll go over the noteworthy moments of this one sided match. This game was the source of much fear for the Gunners' fans, who knew they are in for a tough game. Their recent form didn't help either, entering this game winless in the last 7 PL games. For them, it was all about surviving the potential drubbing. However, this was eventually a quick kill for Manchester City and they dispatched of them with ease.
First Half: Arsenal somehow were on level terms!
Arsenal opened the game terribly, conceding in 3 minutes from a beautifully worked ball. Starting with Jesus on the left, he set up Zinchenko down the flank and made a terrific run inside the box. Mustafi and Gabriel proceeded to make a ridiculous mistake, leaving Jesus free in the box to meet Zinchenko's cross and head it into the net. He capitalized from a wrong exit by Arsenal's GK Runarsson.
For the next 27 minutes, Manchester City completely ran the show passing the ball between them with too much ease. Arsenal were really shaky and couldn't even get past their own-half.While it looked like City were walking over Arsenal, the London outfit manage to equalize from their first significant effort as Lacazette headed a beautiful Martinelli cross into the net. It wasn't to be all joy for Martinelli who went down injured before half time. Considering the expectations heading into this tie for Arsenal, a draw at half-time was probably the best thing they could have gotten.
Second half : Man City come out strong and Kill Arsenal off!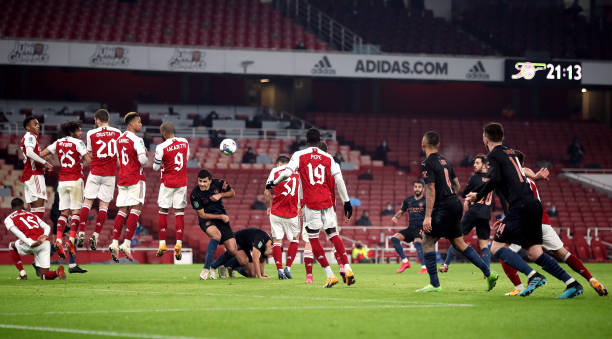 Arsenal could have done with some fresh legs right away. However, they didn't make changes and lost Martinelli to injury just two minutes in. And as Man City were trying to feel their way into controlling the game again, Gabriel gifted them a near 18 yards foul. Mahrez, who didn't exactly have the best game, went in and ruffled it through the hand of Runarsson at 55 minutes.
Four minutes later, Phil Foden made it 3 by chipping the keeper, despite clearly being a couple of yards offside.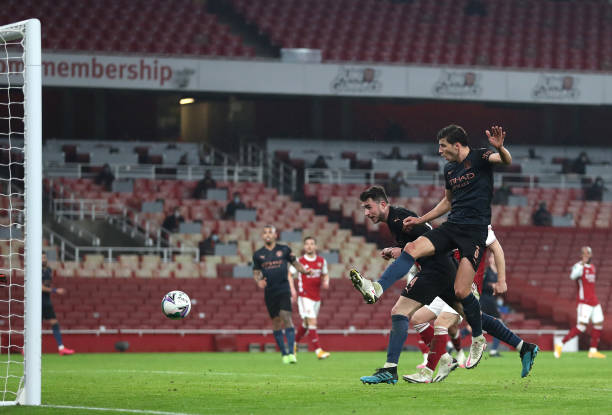 From there, Arsenal just went forward trying to get anything going. On the other hand, Guardiola managed his game introducing the likes of Ferran Torres, and Sergio Aguero who came in after the fourth goal for his club. Laporte made it four by heading a terrific cross, with another marking mistake from Arsenal's center-backs. With the result 4-1 for Man City, and 15 minutes to go, it was pure desperation from Arsenal.
Indeed it was Manchester City doing a quick kill, with Arsenal succumbing once again to defeat. Arteta and Arsenal couldn't look anymore disheveled, as misery keeps compiling on them. We hope you liked our Arsenal vs Manchester City Review – stay tuned for more in the coming days.
Feel Free to check out the rest of our Football content, including our football quiz
Follow me on twitter at:
http://www.twitter.com/SidePsp
Or on instagram at:
http://www.instagram.com/pitchsidepod
Also, feel free to check out the pitch side podcast on my Youtube channel (PSP – PITCH SIDE PODCAST) , Subscribe or listen on Spotify, Google Podcasts or wherever you can get your Podcasts.